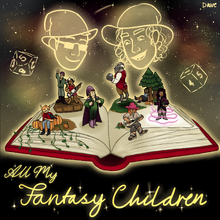 Welcome to the All My Fantasy Children Wiki!
[
]
An encyclopedia for the tabletop inspired character creation and worldbuilding podcast, All My Fantasy Children!
Aaron Catano-Saez and Jeff Stormer take your brilliant character prompts and create a beautiful tabletop game child.
Submit Prompts
[
]
Twitter: @AMFC_Podcast #FantasyChildren
Email: AllMyFantasyChildren@Gmail.com
Places to Listen
[
]
Connect with All My Fantasy Children
[
]
Network
[
]
All My Fantasy Children is a proud member of the One Shot Podcast Network
Latest Episode
[
]
Teen Sensation Ashley Fask: Star
 Welcome, Junior Wizards!
This week, a legend is reborn! If your first word is "Star", expectations are high. What does life hold for those who burn brightly in the first chapter of their lives? Lets find out!